Each month we transport hundreds of animals from life-threatening situations to shelters able to extend both space and care, providing a greater chance that these pets will be adopted into loving homes. But even shelters with high adoption rates are struggling to accommodate even a portion of the animals in need across the country, and I couldn't help but wonder if there were other opportunities for some of these dogs. Options that would give them a safe and fulfilled life that might build upon the experiences of their past. So, I did some research and here's what I found.
SERVICE WITH A SMILE…AND FOUR LEGS
Lots of really great news! There are handfuls of organizations who focus on providing programs for homeless dogs that teach them skills aimed at helping them find a place of their own. One such group, Medical Mutts, is a service dog training foundation that specializes in diabetic and seizure alert assistance dogs, as well as psychiatric service dogs, founded and led by international training expert, Jennifer Cattet, Ph.D. At Medical Mutts, their expert staff uses the same selection criteria as organizations who work with a breeding program, such as temperament, age, physical traits, and optimal health. Although they're unable to take in dogs who require a bit more behavioral work, they believe utilizing shelter dogs as training and service dogs is not only an ethical choice, but also an intelligent one.
"After dogs have been through the trauma of abandonment, they very often develop an even stronger bond to the new people in their lives. The dogs tend to be clingier and more attentive to their caregivers. Those 'velcro dogs' are just what we need when training service dogs, especially for conditions such as diabetes or seizures where the dogs have to pay close attention to changes in the person's physical condition."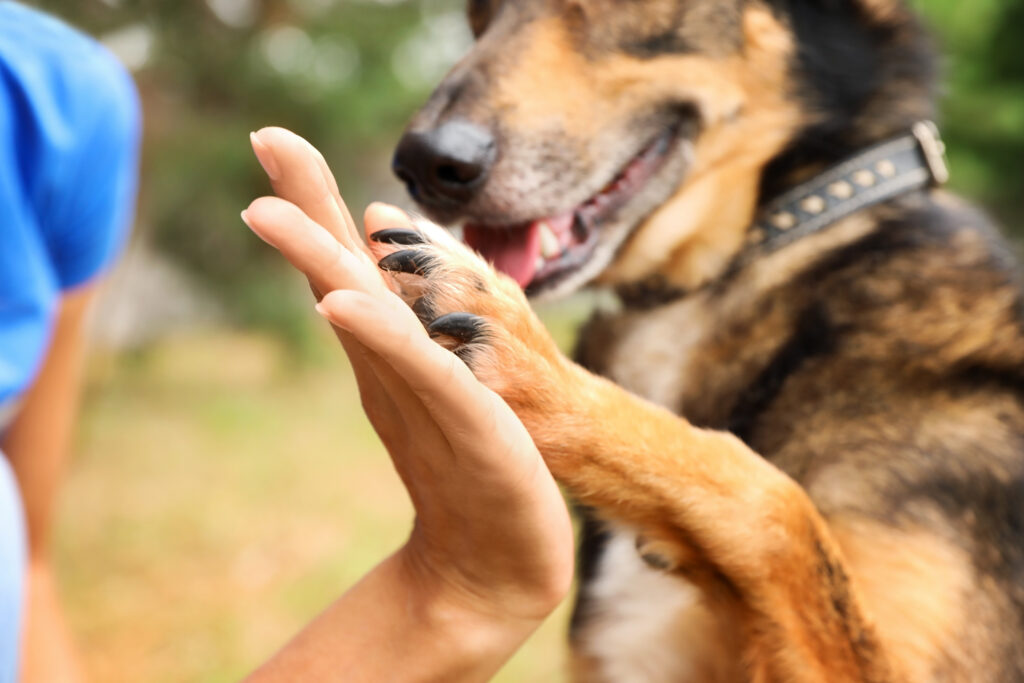 As defined in the Americans with Disabilities Act (ADA) service dogs don't need to be a particular breed, obtained from a specific breeder, or found at a training site. Rescue dogs can be just as talented to become service dogs, given that they have the temperament needed to serve their handlers. If they can be trained and learn the specific tasks needed by their handler, they can earn the title of a service dog.
Another positive are the various sizes and breeds found in shelters. Service dogs don't have to be of any particular type of dog, in fact, some people prefer small or medium dogs depending on their capabilities and home environment. For example, light shedders are more suitable for people with allergies. On the same note, larger canines would serve better in assisting physically challenged individuals, whereas smaller dogs may provide better comfort to people with mental issues like PTSD, chronic stress, or depression.
Only 1 in 4 rescues become a service dog, but those who don't make it, still have a better chance of adoption due to the training they receive at Medical Mutts. It's understood that dogs who are able to perform at the level required for service dogs are difficult to find, and many don't make the cut. However, with the love and guidance they receive with Dr. Cattet and her staff, they can still dramatically change a person's life for the better. Isn't that true of almost any dog?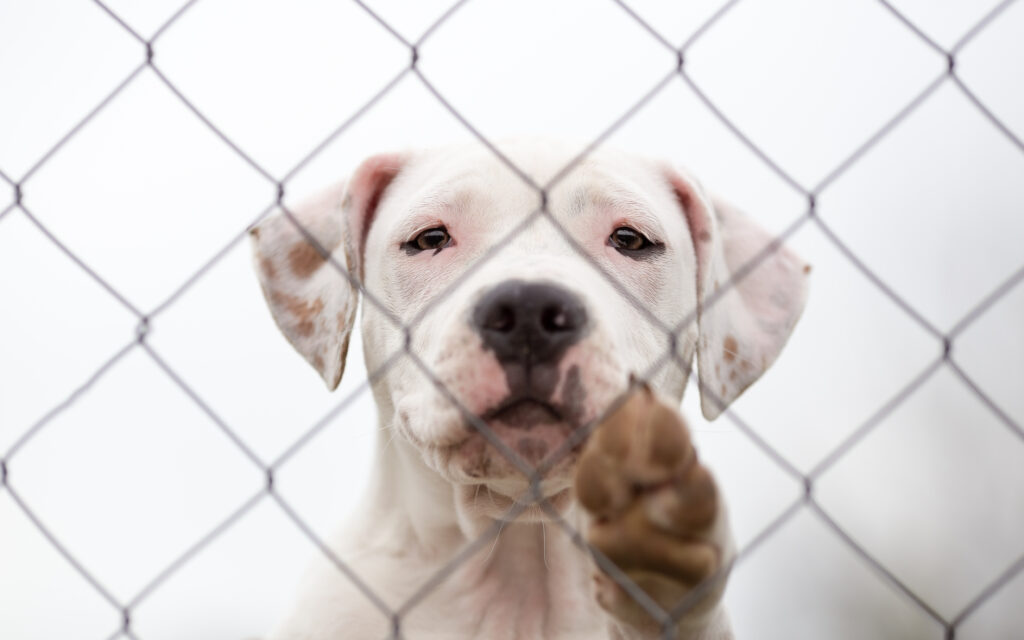 When Medical Mutts determines that a dog is better suited as a loving pet, they release them for adoption. The dogs they select are known for their friendly and sociable nature, thriving on love and attention, so they are easily trainable and eager to please. And they continue to receive ongoing training until Medical Mutts find them a new, loving home.
The reasons for releasing a dog for adoption can vary, such as nervousness in public, prey drive, reactivity to other dogs, or hip dysplasia, among other factors. While these dogs cannot be trained as service dogs, they possess all the wonderful qualities to become cherished companions for the right person. If you're interested in adopting a Medical Mutts pup, here is a link to their available pups.
BUILDING BONDS BEHIND BARS
Another initiative that is seeing remarkable success is the prison dog program. Across the country, state prisons work with non-profit organizations and local shelters to bring homeless dogs into prisons to work with inmates who learn to train and care for them. One such group, Marley's Mutts, partners with California state prisons to select 24-30 incarcerated individuals and 8-10 at-risk shelter dogs for each prison program cycle. Interested candidates submit an application for the program, write an essay and undergo an interview. (The only inmates excluded are those who have been convicted of violence against animals or sexual assault.) Those chosen for the Pawsitive Change program enroll in a 14-week course, which involves very challenging blocks of study, weekly homework assignments and personal goals.
Zack Skow, founder of Pawsitive Change, began a pilot program at California City Correctional Facility in January 2016, teaching inmates to become dog trainers, and it's now expanded to four more California state prisons and one female juvenile correction center.
Skow's motivation to start Pawsitive Change is rooted in his own recovery from alcohol addiction. In 2008 he was diagnosed with acute liver disease and given six months to live if he didn't stop drinking. A dog lover from a young age, he credits his recovery to the fact he didn't want to abandon his dogs. After the wake-up call of his diagnosis he gave up alcohol and went on to set up a dog-rescue service, Marley's Mutts, which is based in Kern County and rescues dogs from shelters and troubled regions of the world. His interest in working with incarcerated people sprung from his AA meetings where his sponsor would relate stories of running meetings inside the prison system. Skow's interest was piqued: with hundreds of abandoned "mutts" in his own rescue facility, he wondered if he could bring the healing power of dogs to the prison system.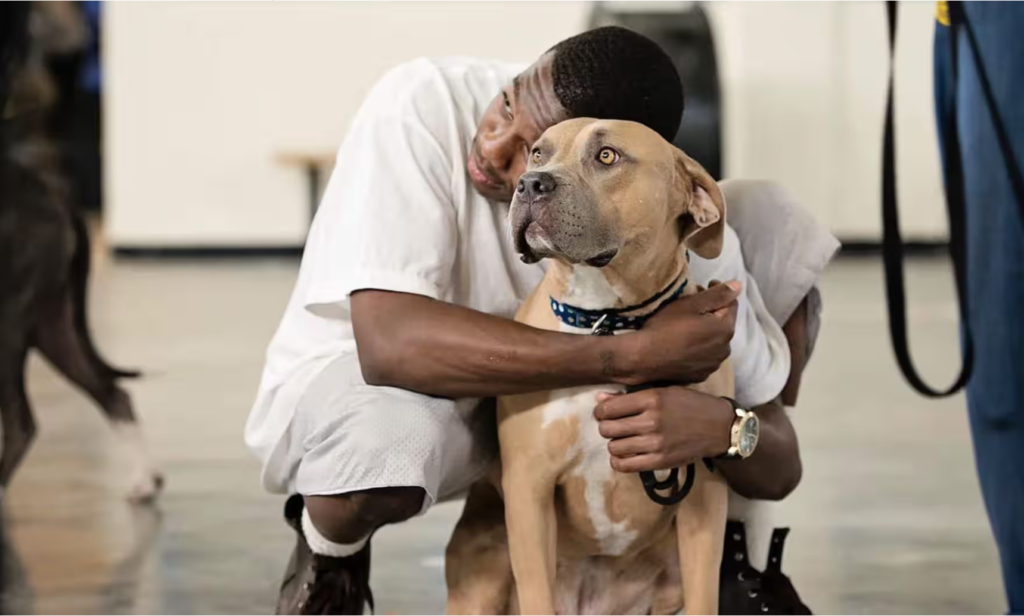 In an article published by The Guardian, several of the students enrolled in Pawsitive Change were interviewed and this one especially touched my heart:
Venie, 33, was given two life sentences in 2017. Attacked by a pit bull at the age of 10, he was an unlikely candidate for the program because he was terrified of dogs. However, Venie had a chance to rebuild his trust in dogs through working with a pit bull named Willow. He describes an understanding that they developed: "I sensed what she had been through. She helped me to heal my past traumas and forgive those who had let me down." He describes Pawsitive Change as "spiritually, emotionally and physically a blessing."
Venie's take on being incarcerated is rare, but not totally unusual.
"Prison is my hope. I'm not dead."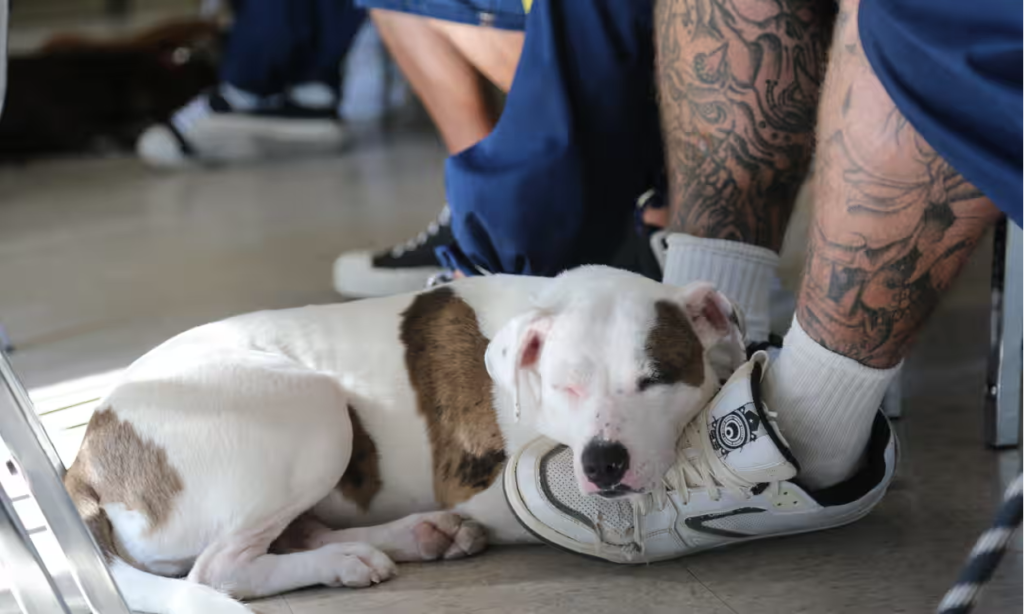 Like any training course or class, there are metrics in place to measure the success of each program cycle, which has both human and canine criteria.
HUMAN METRCS
Increased…
willingness and ability to cooperate and engage positively in team-settings
ability to tolerate, experience, and express emotional discomfort in a constructive manner
awareness of the needs and emotional states of self and others, and appropriate behavioral responses
reported sense of camaraderie among participants
reported sense of self-esteem and social value
willingness and ability to engage in honest self-reflection
understanding of canine behavior and how canine-handling principles can be applied to interpersonal relationships in and out of incarceration
CANINE METRICS
Completion of Canine Good Citizen Certification
Increased signs of trust and respect with handlers and other humans
Decreased symptoms of nervousness, insecurity, and fear
Decreased tendencies toward possessiveness and territoriality
Increased balanced social behavior toward other dogs
Increased obedience to handlers
Procurement of canine-handling skills for professional application after incarceration
More than 300 men have graduated from the program and roughly 200 dogs, from overpopulated shelters with low positive outcomes, have been adopted as a result of the inmates work with them. In 2020, 17 of the program's graduates were paroled and none have returned to prison, which is a considerable success given that the U.S. recidivism rate is 43%.
Likewise, a majority of the dogs trained by inmates have been awarded the Canine Good Citizen certification in recognition of good behavior and obedience. Two of the canine graduates have been certified as therapy dogs and several others are in training to be service dogs for military veterans.
Our goal is to save lives – plain and simple. Thousands of animals are lost each day to circumstance. Not all homes look the same, but if you find a place that's safe and filled with love, that sure sounds like one.
Unfortunately, there simply aren't enough homes for all the animals who desperately need one, BUT there are other options and learning about what they are and how we can be involved allows us to do what we do – even better. That's our challenge, and at times, it's challenging indeed. Yet, when I read about these amazing organizations and the earnest, hard work their doing, I know we're all making a difference. And if we find ways to make a greater impact together those ripples of change will become waves.