If you Google statistics on animal shelter populations you will see the following two facts at the top of every list and entry:
Around 1.5 million healthy, adoptable animals are euthanized each year in the US (670,000 dogs and 860,000 cats to be exact).
And over 50% of euthanasia cases occur in Texas, California, North Carolina, Florida, Alabama, and Louisiana.
Now, if you didn't read anything else, you might assume that people in the South simply don't care about animals and are irresponsible pet owners.
And to that, I would say, "Bless your heart" (I'm a bit southern myself) – because it couldn't be further from the truth. Here are some little-known footnotes to that second fact*. The majority of our nation's underserved communities reside in southern states and lack access to affordable and available pet resources.
People living in underserved communities love their pets as much as pet owners anywhere else in the nation.
However, there is extreme inequity in access to veterinary care, spay/neuter providers, as well as other services most Americans take for granted.
Pets living in underserved communities in the US
of pets living in underserved communities are not spayed or neutered
of pets living in underserved communities who have never seen a veterinarian
*U.S. Humane Society, 2022
Socio-economic issues have a ripple effect across communities. Pets are relinquished to shelters for reasons related to the owner's circumstances at a rate of 3 to 1 when compared to reasons specific to the animal. Contrary to what many tend to believe, an animal's behavior is not the leading reason for surrender. In fact, 14% of dogs are surrendered due to changes in housing, while 23% cats are surrendered due to the owner having too many animals and are unable to continue to care for all of them.
The result is overcrowded shelters that are often forced to euthanize healthy animals in order to accommodate the continued influx of surrendered pets and maximize their often-limited resources. Unfortunately, this also creates a stigma about municipal shelters and their programs, which is yet another misunderstanding wrapped up in misinformation. 
Over the past few months, we've made two rescue flights to Baton Rouge, Louisiana with Bissell Pet Foundation, and we'll make another one on Sunday, December 18th, to ensure 70 more animals will have a safe haven for the holidays. (For those of you who, like me, are counting on your fingers right now – that will make 210 pets rescued!) Shelters from across Louisiana, and even Mississippi, gather at the airport in the early morning hours, in vans filled with eager, loving dogs and cats, who they hope will be able to find their forever families at new adoption centers in the northeast. Through no fault of their own, these pets found themselves at these shelters, and the caregivers who bring them to us do so with tears in their eyes and hopeful smiles on their faces. It's obvious each one is special to them, through last scratches and kisses on noses. You can tell they would keep them all if they could, because often the toughest situations make the strongest bonds. They're not simply doing a job, they're shepherds…in the truest sense.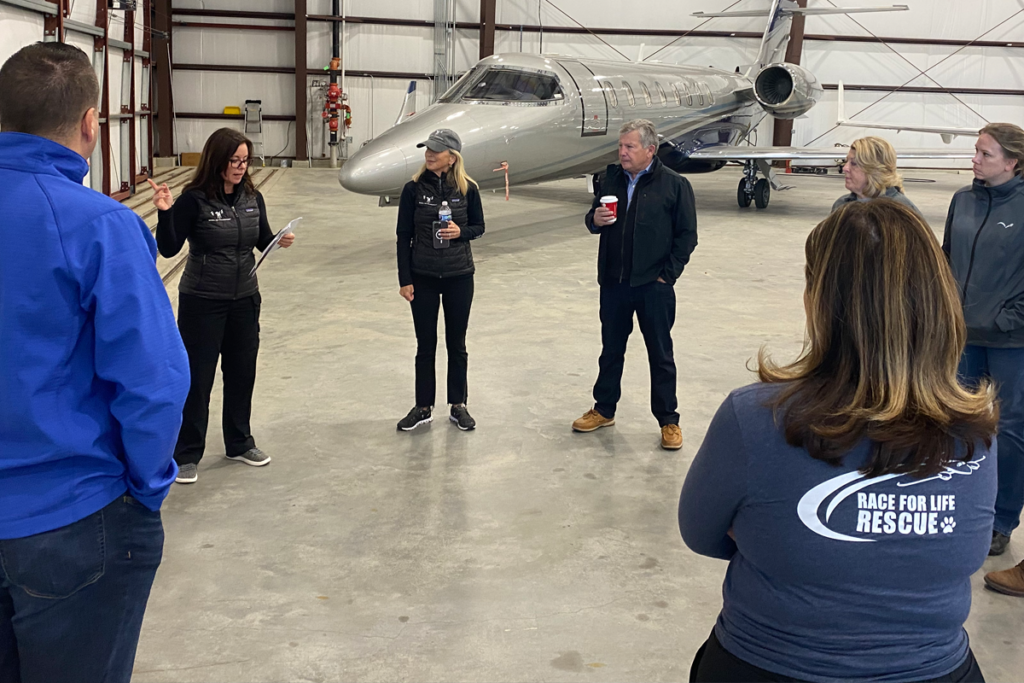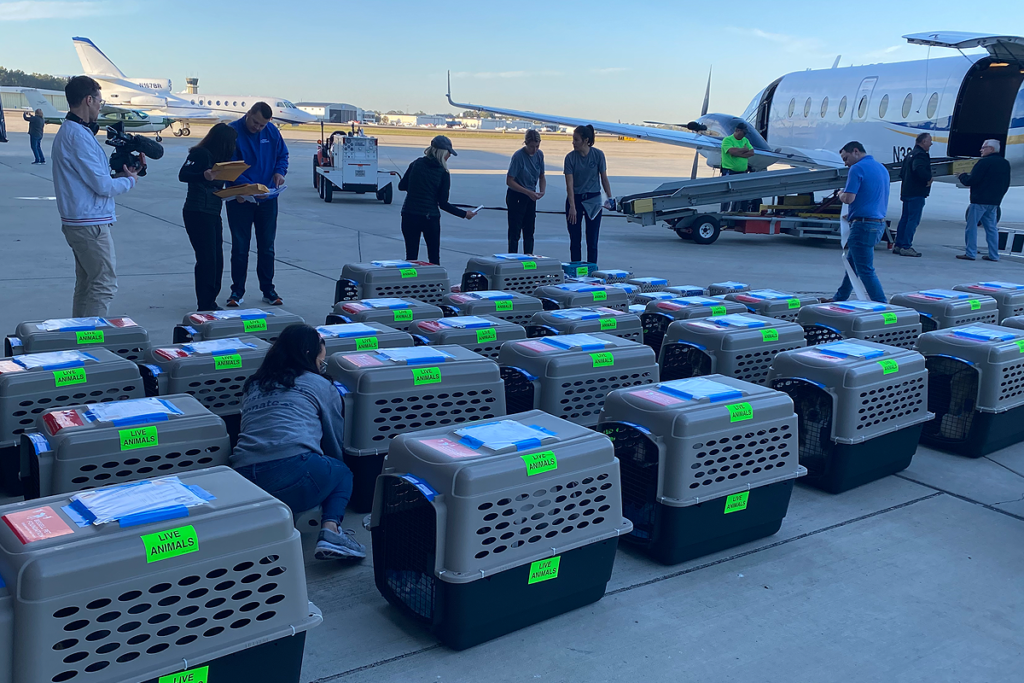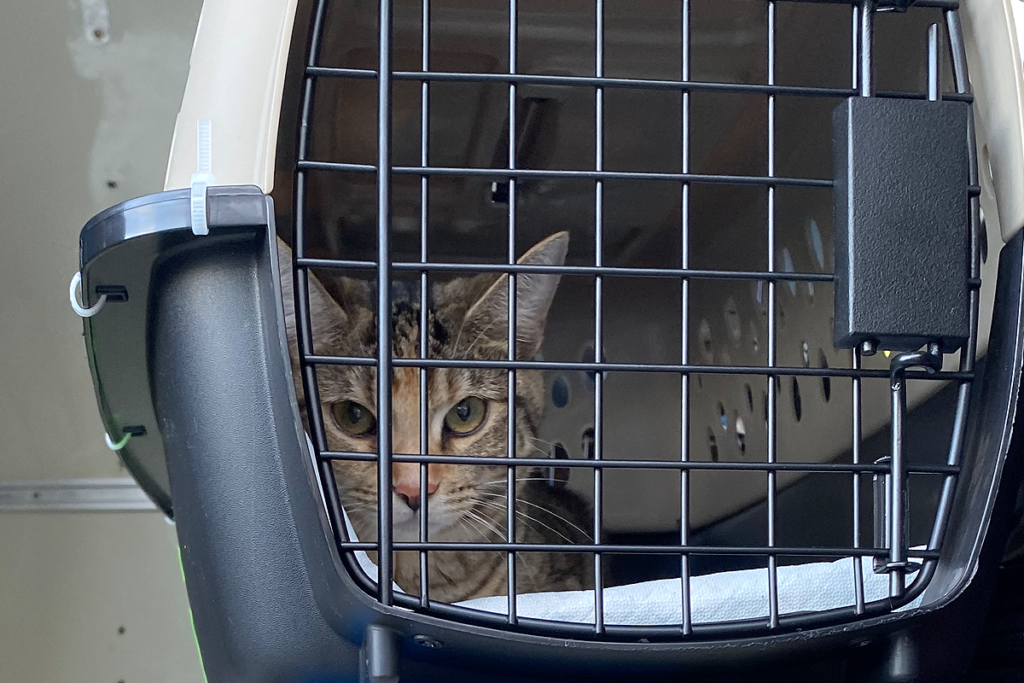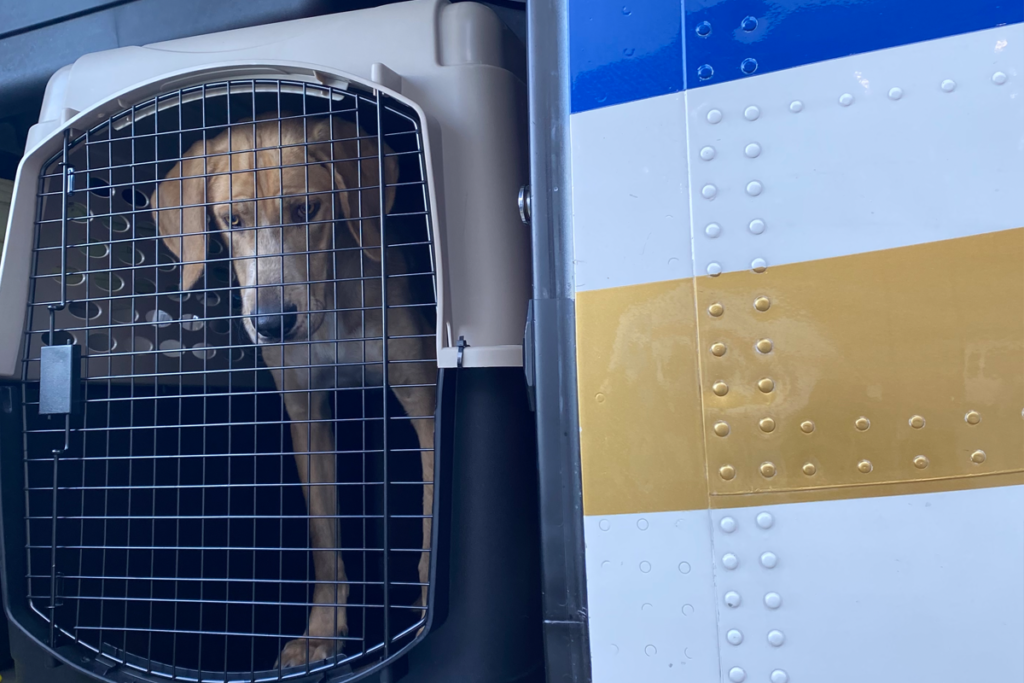 The selection process is heart wrenching, and already busy days are made busier as they put each dog through final health and wellness checks, ready them for transport, and prepare to say goodbye – which is made a little easier knowing they will go to a place of safety and continuous shelter, no matter the circumstances.
During our November 10th trip to Baton Rouge, PetSmart Charities joined us as part of their third National Adoption Week event of 2022. Every mission is special, but this was a particularly big one, as all 66 dogs and cats became residents of Lost Dog and Cat Rescue Foundation in Falls Church, VA and attended PetSmart Charities adoption events around northern Virginia. Within the first two days, 10 of our Louisiana crew found their forever homes, and one by one they continue to meet new best friends and are welcomed into places they can finally call their own. (Trust me, we check in on them. You don't go on cross country adventures with a plane full of pets and not become attached.)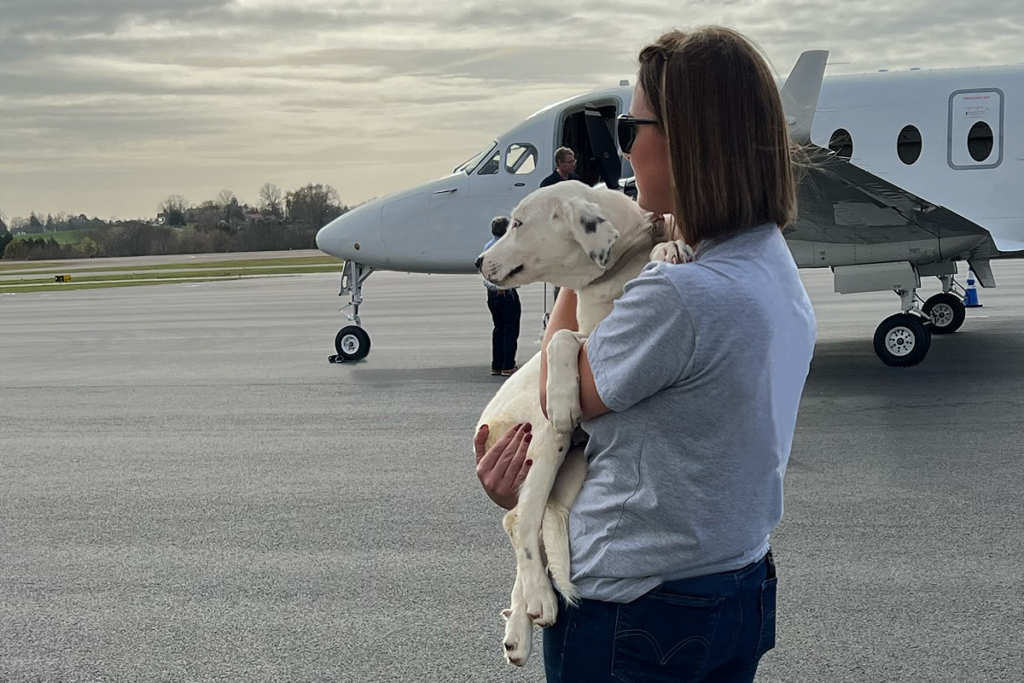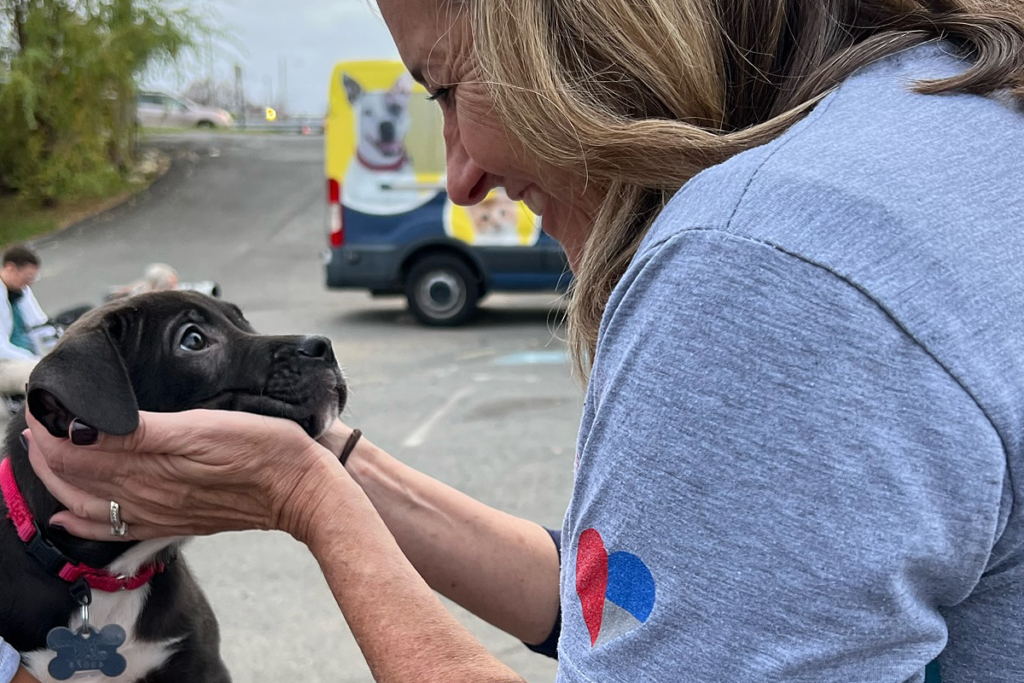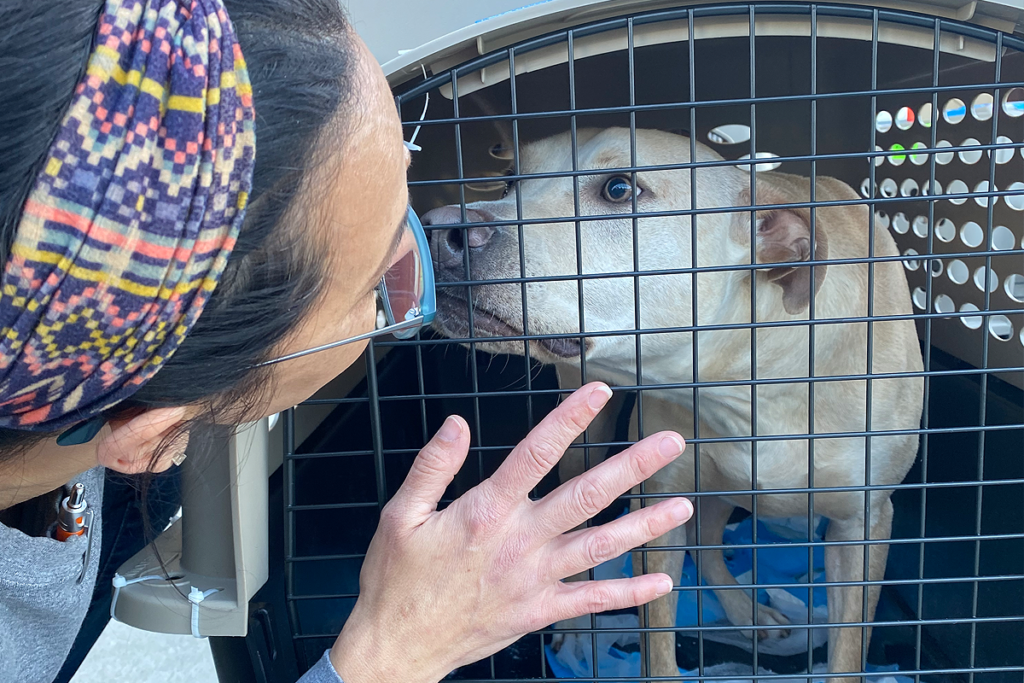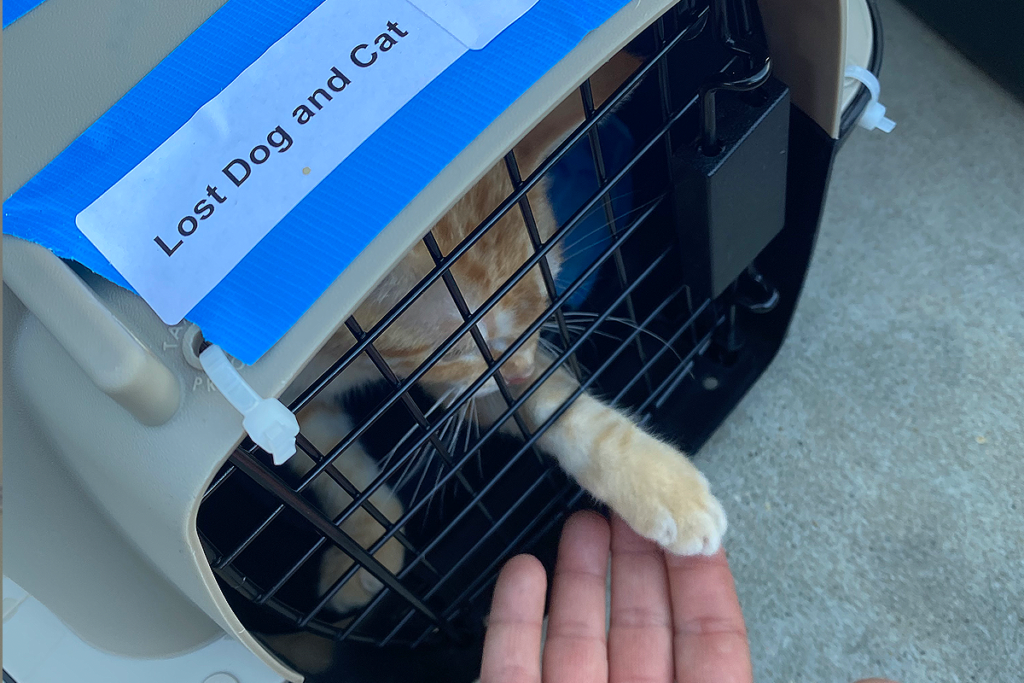 On a personal note, there are many things to love about the south, and I thought I knew most of them, so imagine my surprise when I met my first Catahoula Leopard Cur on recent rescue flight. They're the Louisiana state dog, a title that was made official in 1979.The breed originates from the Choctaw people, and Catahoula means 'sacred lake'. Not only are they strikingly beautiful, with a speckled leopard-like coat and pale, vibrant eyes, they're recognized for their strength and keen instinct. But more importantly, Catahoulas are known for their resilience and endurance. And I think that's incredibly fitting.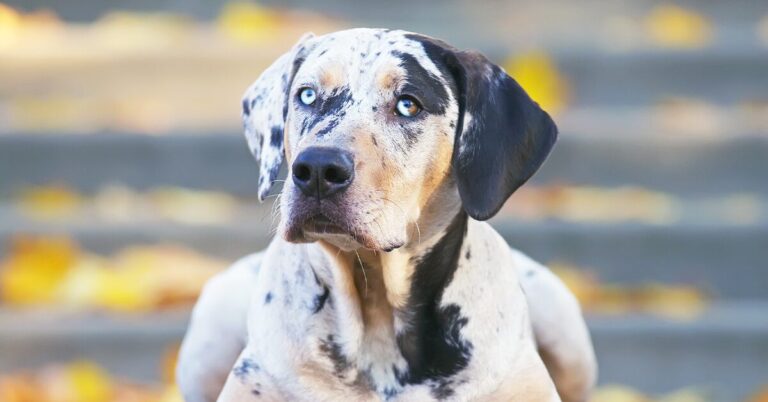 As we continue to rescue animals in Louisiana and across the southern US, we hope that these shelters, as well as their communities, receive much-needed support, additional resources, and more programs are made available keep pets with their families and the population healthy. Until then, we'll fly these dogs and cats to safe locations, and we'll keep telling these stories, because education begins with awareness, and change follows close behind. If you would like to help sponsor a flight, or even the passage of one pet, visit our Race for Life Rescue DONATION page and let us know how you'd like to offer your support.
Follow us on social media to hear about our next flight to get these sweet souls home for the holidays!
Most importantly, we wish you full hearts, warm homes, and happiness this holiday season. And if there's space in your heart and home, open them to an animal in need, and you'll have more happiness than you can shake a stick at – so throw that stick, dogs love it.
* A special thanks to our partners at Bissell Pet Foundation and shelter friends at Animal Aid for Vermillion Area, Ouachita Parish Animal Shelter, Companion Animal Alliance, Hub City Humane Society, Louisiana SPCA, West Feliciana Animal Humane Society, Atchafalaya River Rescue, Lost Dog and Cat Rescue Foundation, Connecticut Humane Society, Dakin Humane Society, Ulster County SPCA, Little Guild Animal Shelter, Little Shelter Animal Rescue & Adoption Center, and SPCA of Tomkins County.