As gray clouds rolled in and the first drops of rain began to fall on the Maryland shore in the early hours of October 1, more than a few of us burrowed a little further under the covers, hoping to put off facing Ian's arrival after tracking the storm's slow march up the coast. But at 7:45am, we received the kind of call that we'd been waiting for, and it threw us into action – cozy blankets be damned! We listened as our friends at BISSELL Pet Foundation told us the planned evacuation of animals sheltered at Collier County Humane Society in Naples, FL, an area ravaged by Hurricane Ian, had been abandoned due to road closures and the limited availability of gasoline. The situation was growing more dire by the hour though, as more and more local pets that were displaced by the storm required temporary housing and care, but every shelter was at capacity. Bissell's new plan was to extricate by air, but they needed a couple things: 2,000 pounds of animal crates…and a plane. (This is where we come in)
It just so happened that ARC, Animal Rescue Corps, had a ton of crates on hand – literally, and we have a plane, so it was all coming together! There was one little snag though, our plane was in South Carolina, where it arrived from Colombia, South America in July to begin its conversation from passenger plane to cargo transport. After the necessary upgrades and inspections, all that was left was the removal of the remaining passenger seats before it could fully accommodate cargo. How hard could that be, right? We were about to find out. After some logistical juggling by our amazing Executive Director, Bianca, we managed to get four members of the Race for Life Rescue team, including our founder, on a plane from Maryland heading to South Carolina in a matter of hours. Within another 12 hours, the plane was cargo-ready and departed at 5:30am on October 3 for Nashville, TN, where ARC's team was waiting in vans filled with pet crates and much-needed supplies for Collier County.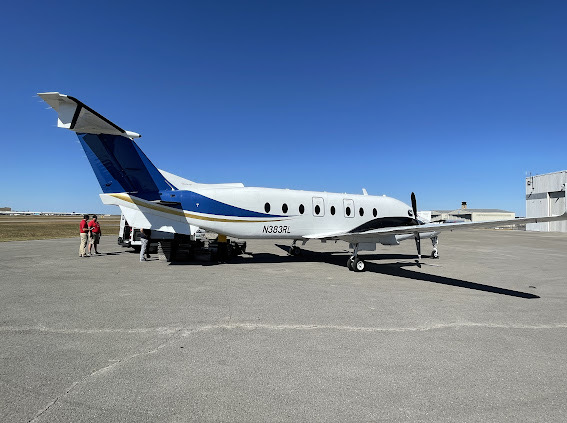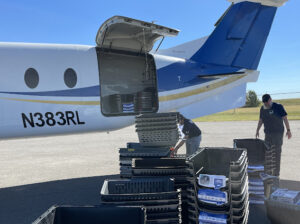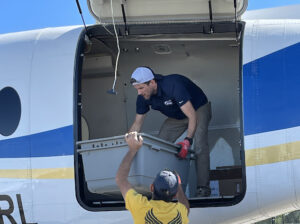 Once the plane was loaded, we headed for Naples, FL where 40 kittens and cats were awaiting their ride home. After quick hugs and high fives with the team at Humane Society Naples and Collier County Domestic Animal Services, these new feline friends became our very first Race for Life Rescue passengers!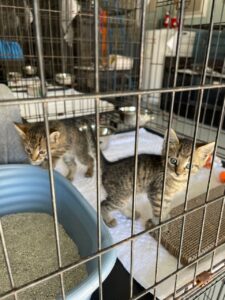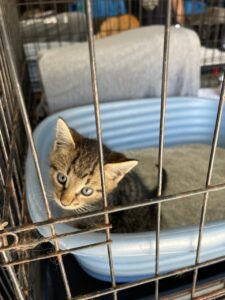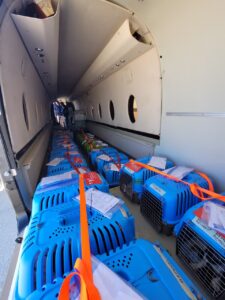 As anyone who knows – and loves – cats, is well-aware, they insist on conducting their own assessments and are often not shy with issuing their opinions. Among this group, one cat gave into his curiosity. Quite early in the flight, Charlie, a handsome orange tabby, took his self-appointed role quite seriously. After liberating himself from the confines of his crate, he proceeded down the aisle, taking in our handy work along the way. When he found himself at Jim's feet, who happens to be our founder and chief animal lover, Charlie not only welcomed being scooped up in his arms, but he made himself quite comfortable in Jim's lap for the rest of the flight. We like to think he approved of his accommodations.
A mere handful of hours later, and as our planed touched down, there was the amazing ARC crew yet again, welcoming the wide-eyed faces and curious paws of Nashville's newest residents with open arms and loads of love. After one more short trip, they will settle in at ARC's Rescue Center in Gallatin, TN.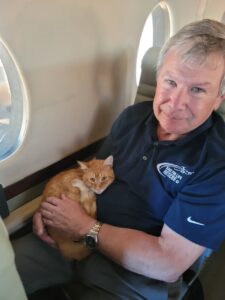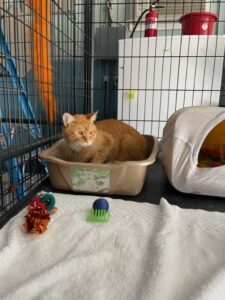 If you have room in your heart as well as your home, and are in the area, visit these sweet souls and maybe make a new friend and family member. If you're lucky enough to see Charlie there, then perhaps he's been waiting for you. Give him a hug for us, will you?
I know I gave it away in the beginning, but…WE DID IT! And boy, do we have all the feels. We were able to work with old friends, meet new ones, and come together across many miles thanks to a common mission of hope and love. Race for Life Rescue's maiden voyage was hectic, humbling, heart stirring – and so very hopeful. Natural disasters may be inevitable, but some tragedies are preventable.
"While the hurricane may have been the reason for this rescue, for the thousands of dogs and cats facing euthanasia in overcrowded shelters, every day is a hurricane."
Jim DeFrancesco
Founder
Race for Life Rescue
We'll be right back at it tomorrow, and every day after, so follow us on social media to learn about our upcoming adventures! Love a pic, share a story, or leave us a note if you think of it, we like that too.